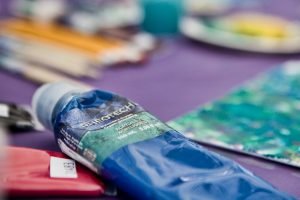 Article and photos by MARGIE O'LOUGHLIN
The Lyngblomsten Mid- Summer Festival took place on July 21 on their campus at 1415 Almond Ave. According to Andrea Lewandoski, Director of Lifelong Learning and the Arts, at least 1,200 guests attended. She said, "We had a great mix of ages, and it was clear that people were enjoying the inter-generational nature of the festival."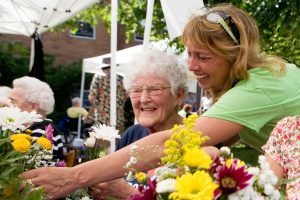 Photo right: Hermes Floral has been in the neighborhood since 1906. Current owner  Sandy Biedler (right) helped community members make "Make Someone Smile" arrangements for residents who were unable to attend the festival. This was the fourth consecutive year that Hermes Floral was a booth sponsor.
The Mid-Summer Festival was a day to celebrate artistic exploration and lifelong learning for all ages. In that spirit, there truly was something for everyone to try their hand at. Make-and-Take art activities were provided by Northern Clay Center, the Polymer Clay Guild of Minnesota, Art with Heart, painter Jan Gunderson (sponsored by Wet Paint), COMPAS, and the Weaver's Guild on Minnesota.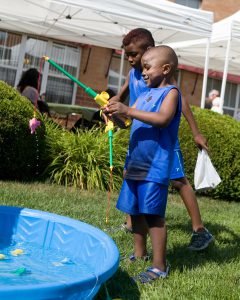 Photo left: Cortez Lemon (front) and Elijah Davis (back) cooled off as afternoon temperature rose to the mid-80's.
Lewandoski emphasized, "One of our goals at the Mid-Summer Festival is to showcase how older adults are participating in the arts, and how they're living vibrantly. We want all of our residents to thrive, not just survive. There aren't many places where you see people living and learning to this extent throughout their lives."
The Mid-Summer Festival used to be a stand-alone event, but has become part of the month-long experience of Como Fest.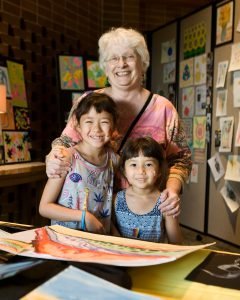 Photo right: Resident Susie Robinson brought granddaughters Sophie and Ella through the Arts and Lifelong Learning Showcase in the Newman-Benson Chapel. The showcase was sponsored by Blick Art Materials of Roseville.
More than 140 volunteers made the event possible and, like the attendees and participants, they represented the whole spectrum of age. Youth volunteers were especially prevalent: featured as musicians in the art showcase area and the wellness lounge, and leading games and activities both inside and out.
"We welcome this chance to invite the community into our facility to meet our teaching artists," Lewandoski said, "and to see the quality of the work displayed in the Arts and Lifelong Learning Showcase. Many of our classes are open to people in the community who are 55+, as well as residents of Lyngblomsten. We offer art classes with outstanding teaching artists, wellness activities, and special events through our 2nd Half with Lyngblomsten Program." Go to www.lyngbomsten.org to view their extensive catalog of upcoming classes.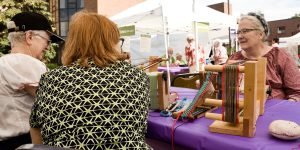 Photo left: The Weaver's Guild of Minnesota brought volunteers and teaching artists to help festival goers weave bookmarks on a small loom called an Inkle Loom.
Lyngblomsten is a non-profit Christian organization serving older adults and their families through healthcare, housing, and community-based services. Their services nurture the whole person—body, mind, and spirit.
Other sponsors included Piche & Associates Real Estate, Griffith printing, the Northern Clay Center, and FastSigns of Roseville. The main stage was sponsored by McGough, a construction company with national headquarters based in St. Paul.