By JESSICA KOPP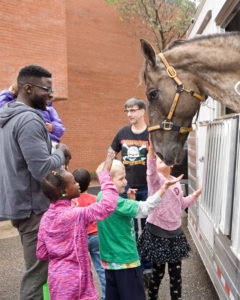 Hello, neighbors, you are all invited to the 5th Annual Hamline Elementary Fall Festival on Sat., Oct. 6, from 12-4:30pm on the fields next to the school.
Photo right: Last year during the Fall Festival, horses from the St. Paul Mounted Police Unit greeted kids and parents. (Photo by Margie O'Loughlin)
This free, family-friendly community event features live entertainment including performances by Siama Matuzungidi (www.siamamusic.com) and the Center for Irish Music Youth Ensemble, games and activities, community exhibitors and vendors, food for purchase, and a bake sale.
For more information about joining the event as a vendor or exhibitor, check out www.hamlinemidway.org/fallfestivalrules or contact the Hamline PTA at hamlineelementarypta@gmail.com.
In case of rain, the event will take place inside the Hamline Elementary/Hancock Recreation Center gym.
Big thanks to our community partners Hamline University, Hamline Midway Coalition, and Hancock Recreation Center for your continued support of this event—we couldn't do it without you. We look forward to celebrating with our awesome neighbors again this year. Hope to see you there!
Hamline Elementary is located at 1599 Englewood Ave., in the heart of the Midway, and is a proud Saint Paul Public School. Learn more about us at www.spps.org/hamline.